Abstract
63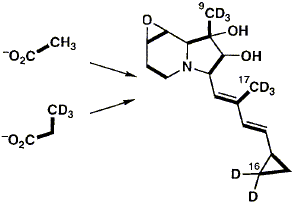 F. J. Leeper, S. E. Shaw and P. Satish
"The Biosynthesis of Cyclizidine: Incorporation of Singly and Doubly Labelled Precursors"
Can. J. Chem., 1994, 72, 131-141. Full Text

Incorporation of isotopically labelled forms of CH3CO2Na and CH3CH2CO2Na into the indolizidine alkaloid cyclizidine, produced by Streptomyces species NCIB 11649, shows that the oxygen attached to C-2 is derived intact from acetate and that the cyclopropyl ring is derived from a single intact propionate unit. However, the level and stereochemistry of the incorporation of deuteriated sodium propionate indicates that it undergoes unexpected modification during incorporation into the cyclopropyl ring.