Parents
Gen.=+4
William Backhouse Jr. Astor
b. 1830
d. 1892
m.
Edward Shippen Willing
b. ABT 1813 est.
m.
Alice Barton
b. ABT 1813 est.
Husband,
wife &
siblings
Gen.=+3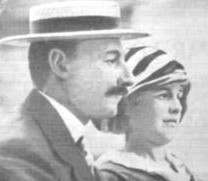 John Jacob IV Astor
b. 13 JUL 1864 Rhinebeck, New York Rhinebeck, New York
d. 15 APR 1912 on RMS Titanic on RMS Titanic
millionaire millionaire businessman, inventor, writer of 840 Fifth Avenue, New York and Ferncliff, Rhinebeck, NY 2nd wife Madeleine Talmadge Force, m. September 11, 1911 age 18 (Titanic survivor)


G3, ID=2829
m.

Ava Lowle Willing
b. 15 SEP 1868 Philadelphia Philadelphia
d. 9 JUN 1958


G3, ID=2828
Other husbands: Thomas, Lord Ribblesdale Lister
John Rhea Barton 1840-
Susan Ridgway 1842-